It has been little over 10 years since the Gold, Sullivan & Brady (GSB) walked through the doors of West Ham & took over a club on it's knees. Whilst we suffered relegation under crippling financial pressures & ill equipped team, they where able to prop us up to a knee & gain promoting under Big Sam. This is where the praise for them is then hard to find or manufacture. At one point I thought they was doing a fine job, but admittedly football was only a distraction, and I paid little attention beyond match days. As my love for football & West Ham came back I became more engaged, and started to see the club for what it was & is becoming. Amongst many fans there is a bitter feeling, a line that has been crossed too many times, where loyalty is a commodity to exploit & a love once so strong now tainted. It sounds extreme to say but it is like watching a member of your family wilting away and feeling powerless to arrest the tide or change course.
Hopeful promises not Pledges
There is an inability within our board to take responsibility for their words or actions with them simply unaware that their words have impact. Every promise made has been broken or turned into something else, with Gold via TalkSport claiming they aren't liers & never made any pledges to the fans & in fact hopeful promises. Refusing to accept that they failed to meet the expectations they set. Instead peddling the new narrative that us fans simply misunderstood & shouldn't hold the board accountable for their failures.
They have often spoken a good game using sympathetic journalists & outlets to tell a narrative where they attempt to control a truth, which is simply their truth but not reality. Quite simply their words are hollow, without any meaning & hold no weight as are false platitudes looking to apply lip service. All this has brought about protests against the board demanding answers as to their poor management across every facet of the club. The Hammers United team made great headway in bring the fans together in it's thousands to voice its dismay at the clubs board who refuse at acknowledge they have any responsibility in our current state.
The Stadium Move
GSB have presided over a tumultuous time in West Ham history with it being much of their own making & in a bid to solely line their own pockets in my opinion. The moment they stepped through the door their eyes were fixated on the Olympic Stadium & the lure of increasing the prestige of the club. Upton Park had served its purpose for them even if David Gold of 442 Green St. would consistently fawn over his youth days at the club & the magnificent old girl, a cunning ruse to present a feeling of belonging & a wrench to leave. Promises & statements where made clear to fans that Upton Park was our past with the future successes due to be found at the now London Stadium.
With reluctance as a majority we accepted the move as we wanted the promises to be true. Gold stated we wouldn't move unless the pitch was as close as it is Upton Park with Brady promising us a "Worldclass TEAM in a Worldclass stadium" (the team I will touch on later). Instead we we got neither promise & our spiritual home was not only sold off cheaply then sold for a profit 24 hours later, but our history was sold off via auction. This was said to give us fans the chance to own of history, but feels more like a clearout of what the board consider "tat" in their new house move. To the highest bidder parts of our history was flogged & discarded by the board but cherished fans. Upton Park has since been demolished with any reference to West Ham all but gone, albeit upheld by the World Cup Winners statue.
Infrastructure
West Ham arguably have the worst infrastructure in the top 2 divisions in the UK & is a direct result of neglect & looking to cut costs in any way possible. Our training facilities are of an awful standard by modern EPL levels, and yet the board are blasé about it. Gold proudly stating we have spend £10m on our training facilities alone, ignoring that £4m was on Chadwell Heath for the academy with Rush Green still sporting portacabins. By contrast Leicester City have commissioned a £100m training complex.
Via Forbes; "Its main building including offices for staff members along with 30 bedrooms that effectively doubles up the vast arced space as a hotel. There is also a rehabilitation center along with hydrotherapy, medical, dining and educational facilities. there is a covered 'show' pitch with 499 seats and an elevated camera platform that has been, according to the club website, 'specifically devised to allow Academy teams to sample an authentic match-day experience'. Beyond that is a vast sports hall that contains a full-size indoor pitch with changing rooms and a cryochamber within walking distance. The 45-feet-high construction is fully ventilated to avoid any humidity. Outside there are twelve full-size pitches, six part-size grass pitches and several warm-up areas."
Via Forbes; "Liverpool's advanced new facility situated in Kirkby is close to completion with little change given from £50 million. Bournemouth's approved move to a new site will set them back £35 million with the Cherries having followed Leicester's lead and secured land that was formerly a golf club."
With all that in mind we are meant to be impressed by the outlay our board have made on our facilities that is on average £1m per year, which would be impressive if not for the reality of the state of UK football.
The scouting & analysis department is even worse state than that of the training facilities. After the Burnley protests during Moyes 1st stint at the club Sullivan promised a ground up restructuring of this department & to take a step back from a shambolic strategy in which he relied heavily on trusted agents to bring him players, with scouting & analysis threadbare. To date West Ham have a single scout on the books whereas Southampton have over 60 employees scouting & analysing players from youth level to 1st team, again West Ham employ a solitary scout. Under Pellegrini the club had a Director of football & 7 scouts with there seemingly being a structure to deals & identifying then acquiring players. Sullivan ultimately disbanded all this when Pellegrini left as clashed with Husillos criticising via sympathetic journo's eager for a story as missed doing the deals & playing real life Football Manager. To compound matters when the team was disbanded they took all the data they had amassed on players & potential targets too. Once again the board have presided other this terrible mismanagement & reverted to type without a second thought to the promise made to improve standards. Ultimately scouting is a costly affair & hard to quantify value in the short term in the long term the value comes in the selling on of players for profit & players moving you higher up the league. Such is the shambles of our scouting & recruitment structure we fail to identify our internal weaknesses & then address in the market.
Recruitment
It has been been 8.5 years of shooting fish in the barrell & taking whatever comes to the surface for West Ham & the odd controversy step for for Mr "Mayhem" Henry. For all the faults of Husillos & Pellegrini what they did do was highlight areas of weakness & take steps to improve where permitted. In the below you can see that there was less of a focus on attack as previous managers with defense & centre midfield being more critical. The issue was that for years the squad was unbalanced & ill equipped not recruiting for an specific style of play or identity.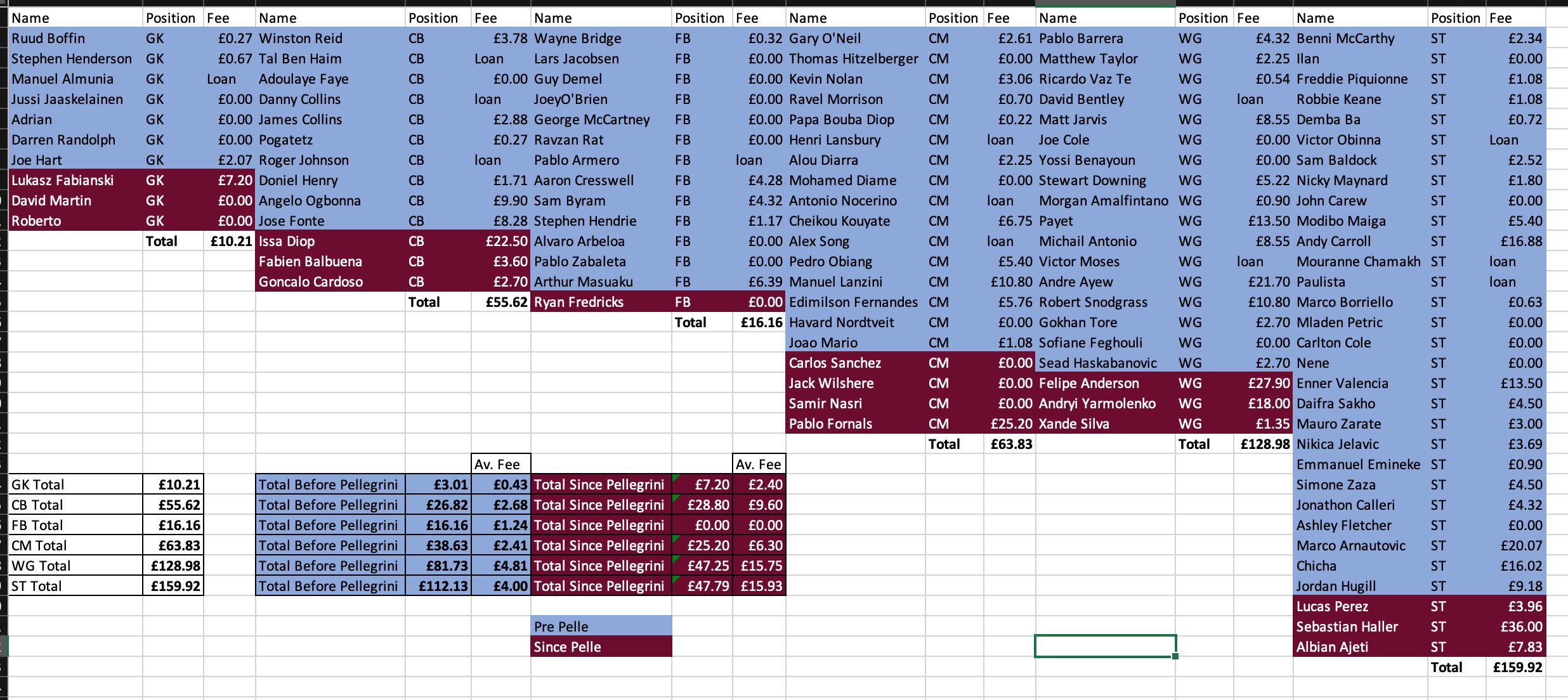 For years full back & central midfield positions have been an issue always with an eye on doing it on the cheap. Extravagant fee's where merely reserved for those which sell season tickets which in the eyes of Sullivan is only attacking players. Millions have been wasted on vanity signings & poorly chosen options with little to no accountability unless your name is Husillos or Pellegrini who's main crime was signing Roberto. The vastly concerning trend is the over reliance of agents to help in bringing the team together with many players sharing an agency. In particular Salthouse who has Antonio, Cresswell, Fredericks & Randolph on his books, with all four ideally not at the club as not of the required standard. We have issues at fullback but with Salthouse as a "consultant" there is no really urgency to displace one of his clients to the betterment of West Ham, instead it is better to direct Sullivan to other areas of the squad he can help in. When you look back at players linked there is a common thread Craig Dawson, Said Benrahma, Che Adams, Scott Hogan, Jamaal Lascelles all Salthouse agency clients. Rather than the agents being a necessary evil as part of thee negotiation process they are an active entity when shaping our transfer strategy.
Experts in Failure
Jose Mourinho once commented that Wenger was an expert in failure, yet had he turned his eye to East London rather than North he would have seen 3 who hold the title proudly. GSB have preceded over a decade littered with controversy, deceit, unethical use of media outlets including social media platforms & sheer incompetence. They have zero idea on how succeed & refuse to employ others in to take the club forward. After sacking Moyes for not being good enough to lead West Ham on, Sullivan went for the vanity of a big name in Pellegrini (who was free) to usher a new era. Pellegrini wasn't backed in his final window where 2 pieces of his jigsaw was missing in a CM & LB, but Noble was deemed good enough for the board whilst cutting the wage bill considerably. Rather than admitting Pellegrini as well as Bilic was right CM was a problem Pellegrini was relieved of his duty & the man no deemed good enough 18 months previous now is. It was a colossal failure to not look at other options with the much fancied Kovac also free, as a misguided belief that a British manager would ensteel hard work & passion back into the side. Even still there was alleged interest from Howe & Dyche, but they cost money which GSB wouldn't commision. In their long history of football not once have they paid to get the man for the job, which shows a manager has no real value to them. Across the club we are either woefully understaffed, under financed or ill equipped for the level the club plays at. GSB have always tried to limit cost & save money in anyway possible rather than truly invest in the "hopeful promises" made as the eye has always been on selling for huge profits.
Until they finally leave I do believe the love for the club will be tainted with us lurching from one failure to another. The board will continue to take zero accountability utilising their usual means to place blame at the feet of their employees & fans alike. Our club is in a chokehold being held against the will of its many supports, by those who profess to be "one of us" yet fail to do the right thing. By selling the club Sullivan can finally try to buy his boyhood club Cardiff & Gold can have a happy retirement away from the demands of operating a club in an elite environment, Lady Brady can continue with her media work not embarrassing a fanbase.
We have been stripped of our history, heritage sold off to the highest bidder, seen our clubs facilities plus infrastructure fall to levels comparable to league one & treated with contempt. The shortcomings of the club are coming home to roost this season after all the cut corners, lack of funding & unprofessionalism coming to the fore. Leadership is derived from the top but when that is dysfunctional, unprofessional & delusional this filters down to the very bottom. Everything that is wrong with the club is due to a collective failing but the it starts & ends at the top who have the means to do the right thing but refuse.